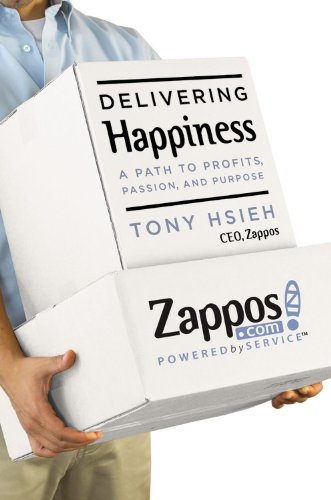 Delivering Happiness: A Path to Profits, Passion and Purpose by Tony Hsieh (pronounced "Shay") CEO of world-famous Zappos is released and available in all good book stores from today.
Having been lucky enough to receive an advance copy to review, here are my thoughts on the book:
The BIG idea behind Delivering Happiness:
Tony Hsieh led Zappos from being an online footwear retailer with virtually no sales in 1999 to over $1bn in sales in 2008.  This astounding success and growth has been built upon a relentless focus on developing a thriving internal company culture that puts delivering a WOW! service for customers at its heart.
In essence, Zappos has grown by delivering happiness to its customers, employees, suppliers and stakeholders.
Major highs:
Delivering Happiness is an easy to read book with plenty of interesting anecdotes wrapped up in Tony Hsieh's chatty written style.
It is open, honest and transparent. Much like Zappos. Tony is open about the bad as well as good times e.g. most of us are aware of Zappos' roaring success however, I was not aware of how close Zappos had come to folding in its early days, plus there's a frank account of the difficult decisions made to lay-off some of the Zappos "family" during the 2008 economic storm. Tony also reprints some of the emails written to the Zappos employees covering the highs and lows which is open and revealing.
Chapters are interspersed with short interludes written by Zappos employees or associates. This helps emphasise key points from different perspectives as well as providing interesting diversions and interest. Tweets to live by is also a nice touch.
The famous Zappos company values along with the accompanying internal detailed narrative as provided to all new employees is reprinted which provides a further fascinating insight into the internal culture of the company.
I will not attempt to steal the thunder from the many fun, weird and cool ideas that the company engages in to grow its business and brand suffice to say that I would be stunned if reading this book did not make you rethink your business…
Minor moans:
I would have liked to have learned a little more about the day-to-day running of the business and in particular how the Zappos culture and energy is maintained. The book pin-points the main turning points of the business and touches upon many of the less conventional ways of doing business but I would have liked a little more depth – perhaps I'm being greedy!
I found the chronological order of the book  a little tedious in parts, for example, the book kicks off with Tony Hsieh's early entrepreneurial dabblings which might have worked better as flash-backs from the meat of the Zappos story rather than being addressed in isolation first.
Tony sets out some academic findings in relation to the effects of happiness at work but these are presented as short / "further reading" summaries rather than being weaved into the story itself – either a missed opportunity or a chance for a follow up book perhaps?
Rating
8/10 – a must read for all entrepreneurs and business owners.
If you would like to get your hands on a free copy of this latest book, please email me via the contact form with "Please Deliver Happiness" in the email. One lucky winner will be picked at random. Good luck!